About Us
Established in 2013, Shogun Kendogu is proud to be aligned with Nara's own Kazutaka Budō Kōbō (Workshop) – a purpose built workspace for the manufacture, supply and repair of kendo equipment.
Nowadays, the number of Japanese craftspeople working in the kendogu (kendo equipment) industry is slowly decreasing. We believe this is a concern, and want to do our best to keep the legacy of quality Japanese made kendo equipment alive and well. Drawing on the skills of the craftspeople at our parent company, Kazutaka Budō Kōbō, we hope to continue to bring this level of quality to the international kendo community.
Additionally, we seek to:
• Provide the highest level of quality in the goods that we make and supply
• Close the gap between our customers and our craftspeople
• Nurture a strong future for Japanese kendo craftspeople
If you have any questions about kendo equipment, or the practice of kendo itself, we are always happy to help. If you ever find yourself in Nara we happily welcome you to our workshop to observe our kote making and bōgu repair processes.

Our Products

The unique composition of materials used in the construction of bōgu from Shogun Kendogu has enabled us to use a wide pitch machine stitch. This design, coupled with complete custom construction, means that our gear has a level of comfort, flexibility, and protection that is unrivalled.

Some say that softer, wider stitched gear loses its shape easily. For bōgu of lower quality, this is certainly true. However, all equipment from Shogun Kendogu features a unique 'koshi' composition within the futon that not only facilitates a durable and long lasting shape, but also makes it extremely comfortable to wear.
The level of quality we provide can be seen by the calibre of our customers. For instance, Tadakatsu Amishiro of the Hyogo Police is pictured below at the All Japan Police Championships using a set of equipment that is available from Shogun Kendogu as the Red Label.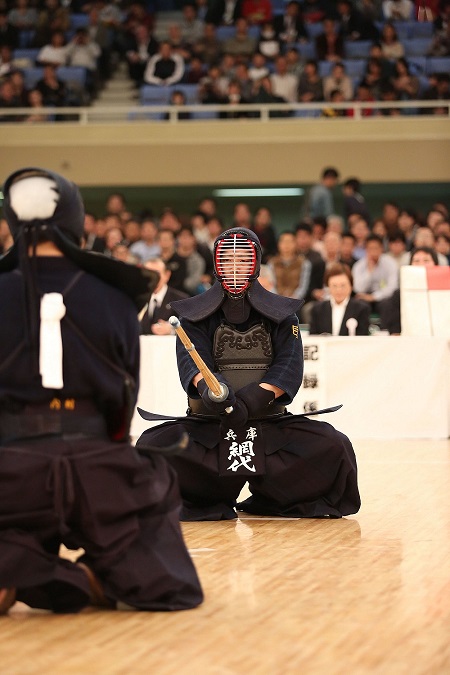 Further, Shogun Kendogu's White Label was worn by Daiki Kiwada (below), winner of the 2012 All Japan Kendo Championships. Kiwada, referring to his use of the White Label equipment, stated: "I found this gear to be extremely comfortable and easy to use in my fights at the All Japan Championships".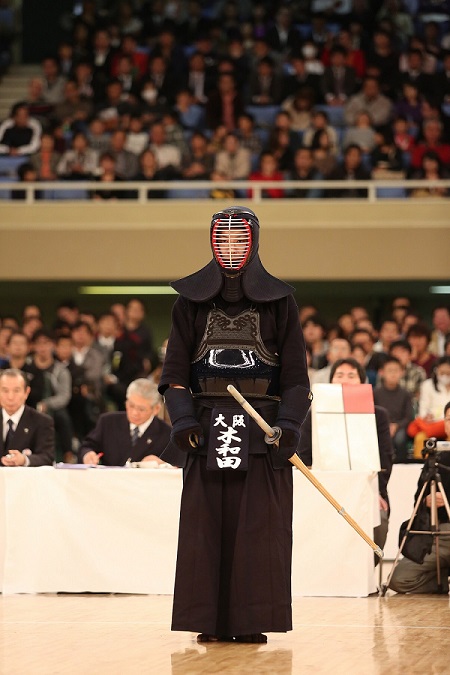 The reliability and quality of our equipment has resulted in us winning the contract to custom build the Japanese National Team's dou-mune for the 15th and 16th World Kendo Championships. In fact, customised equipment is our strength at Shogun Kendogu, and we would love to hear from you with any questions about customised equipment for you or your team.

Our Team
Blake Bennett, Sales

Blake began his kendo career at the age of 9 in 1992. He has represented the New Zealand Men's Kendo Team in both the Sempo and Jiho positions every World Kendo Championships since 2000. He has attained the rank of 6th Dan in kendo, and is now the Men's Coach for the New Zealand Kendo Team.
Blake completed his under-graduate degree in Sport Coaching at the University of Canterbury, New Zealand. He completed his Master's degree in Sport Sciences at the Osaka University of Health and Sport Sciences (also known as Osaka Taiiku Daigaku), Japan, writing his thesis in both English and Japanese on the topic of violence kendo. Blake has since finished a PhD in Sport Pedagogy at the University of Canterbury, and travels frequently to Japan for family, work and training.
With his time in the shiai-jo and his education as a coach, Blake has written many articles for Kendo World magazine regarding sport psychology, and violence in kendo. His experiences at some of the toughest Japanese kendo universities and stints training with the Kyoto Police and Osaka Police have also influenced various short articles.
Blake co-founded Shogun Kendogu in March of 2013, and strives to share his knowledge of kendo and kendo equipment with fast and friendly customer service.
Hiroki Kunugihara, Craftsman
At 33 years of age, Hiroki Kunugihara may not fit the stereotype of a kendo craftsperson. Nevertheless, he has been trained and guided by some of the best in the business for almost 15 years. He is constantly striving to increase his skill-set and knowledge of all trades involved in bōgu building, including studying under Nara based craftspeople to learn about the lacquering process of Japanese made bamboo dou-dai.
Hiroki began training in kendo at the tender age of 3. With 30 years of kendo training under his belt, his knowledge of kendo and ongoing research of kendo equipment are the reasons that the fit and quality control of Shogun Kendogu products is always assured. A graduate of Kinki University (Kindai), Hiroki (kendo 5th dan) and his father (kendo 7th dan) founded Kazutaka Budō Kōbō (Workshop) as a result of the surge in popularity of the kote they were manufacturing for supply to various bōgu shops around Japan. This design is now known as the "Kazutaka Cut" and is only available internationally on the Shogun Kendogu webstore.

Hiroki believes that his strengths as a craftsperson stems from his enthusiasm for kendo training. He recognises that, just like people's kendo styles, everyone has a different size and shape that must be accounted for when building the ideal set of bōgu. He states that his goal is to create the most comfortable set of kote possible for as many kendo-ka as he can, and maintains that "this is what keeps me motivated in my work each day". 

As the chief craftsperson, Hiroki represents a small number young Japanese kendogu craftspeople committed to keeping the bōgu making/repair skills alive and well in Japan.

Yuta Sugimoto, Craftsman
Yuta Sugimoto is 23 years old, and holds the grade of 3rd dan in kendo. He has completed a six year bōgu building and repair apprenticeship with the Kazutaka Budō Kōbō crew, and has been with Shogun Kendo from the beginning. Yuta has trained in kendo since he was a small child and regularly competes and coaches kendo in the Kansai area.
Yuta is clear in his intention to "encourage the kendo community to opt for repairs, rather than buying and disposing of cheap equipment on a regular basis" – a trend that he views as a concern for the future of Japanese-quality-controlled kendo equipment.
Yuta has been educated by chief craftsperson, Hiroki, to build the "Kazutaka Cut" kote, as well as make an impressive range of repairs and alterations to ever item of kendogu. In addition these skills, he is also in charge of operating the sewing machines used to stitch the forearm of Shogun Kendogu's kote-buton.
His ongoing training and research on the dōjō floor ensures that the quality and usability of Shogun Kendo's equipment is frequently tried, tested, and improved. He is an innovative and talented craftsperson, and plays an important role in our aim to nurture a strong future for Japanese kendo craftspeople.
Our Pledge

We appreciate that you, as a practitioner of kendo, have a huge amount of choice in online bōgu these days. So, as our way of helping to make that choice easier we would like to introduce the following pledge to you:

We pledge to our potential and paying customers, that we will endeavour to provide products and services that you can rate 10 out of 10, every time, no matter the size of the order. If there is anything about your experience with Shogun Kendogu (service or product) that you couldn't rate 10 out of 10, we will do our very best to correct it.
If you have a spare 2 minutes to fill out a customer satisfaction survey to let us know what you think, please click here. Or, if you would rather tell us directly how you feel, please contact us at info@shogunkendogu.com to let us know.